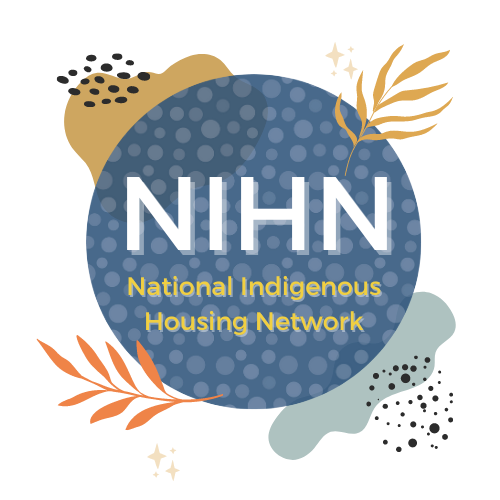 Who We Are
The National Indigenous Housing Network (NIHN) is a movement of First Nations, Inuit, and Métis Peoples who are dedicated to improving the living situations of Indigenous women and girls, Two-Spirit, and gender-diverse persons across Turtle Island and ending incidents of becoming unsheltered. All members have the lived experience of needing adequate shelter and a place to call home.
Marie McGregor Pitawanakwat, NIHN Chair
Marie McGregor Pitawanakwat is an Anishinaabe kwe, at Daawganing, on Manitoulin Island, Northeastern Ontario, Canada. Marie developed a business called Szhibeegen Training Services, which provided training and development to First Nation communities and NGOs, primarily in Northwestern Ontario, focussed on community and business development. Her business won an award from the Northern Ontario Business Awards.
In 2015, shortly after returning to her home community at Whitefish River First Nation, she was evicted from the original family home and became homeless. Her belief was and is that Indigenous people already own the land, so there was and is no need to "purchase" land that one's people already own. She created a tiny home, situated in the woods on the Whitefish River reserve on unused land, where she lived off-grid for three years.
In 2018, the Whitefish River reserve evicted her and she became homeless again. In 2019, Marie was accepted as a member of Wiikwemkoong Unceded Territory.
---
Human Rights Claim
On June 14, 2022, NIHN (formerly known as the National Indigenous Feminist Housing Working Group) submitted a Human Rights Claims to the Federal Housing Advocate.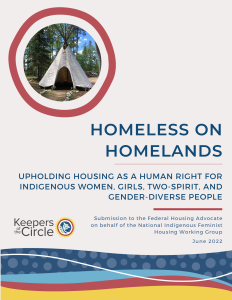 Homeless on Homelands: Upholding Housing as a Human Right for Indigenous Women, Girls, Two-Spirit, and Gender-diverse People
In the context of inherent Indigenous rights, the National Housing Strategy Act (NHSA) emerges as a critical instrument that can be utilized to challenge colonial policies and mechanisms that attempt to displace Indigenous women, girls, Two-Spirit, and gender-diverse people from "their proper power and place."
This Human Rights Claim articulates four key violations of our inherent rights that must be reviewed by the Federal Housing Advocate:
Violation 1: Lack of Action on the Calls to Justice from the Inquiry into Missing and Murdered Indigenous Women and Girls Report and Calls to Action from the Truth Reconciliation Commission Report
Violation 2: Failure to Provide Safe, Adequate and Culturally-Appropriate Housing, on Our Own Terms  
Violation 3: Interjurisdictional Neglect, Multiple Systems Failure, and Institutional Betrayal
Violation 4: Security of Tenure under NHS and Secure Indigenous Land Tenure
---
NIHN in Action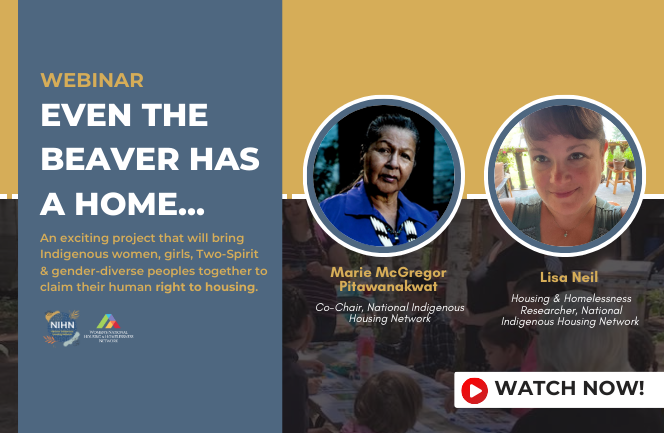 Webinar: Even the Beaver has a Home
On October 6th 2023, the Secure Indigenous Land Tenure Association invited the National Indigenous Housing Network to host an info session on "Even the Beaver has a Home…" a series of engagements that will bring Indigenous women, Two-Spirit & gender-diverse people together to engage in the upcoming review panel on the government's failure to prevent homelessness for women and gender-diverse people.
Watch to learn more about this exciting opportunity for Indigenous women, Two-Spirit and gender-diverse peoples to come together and claim their right to housing!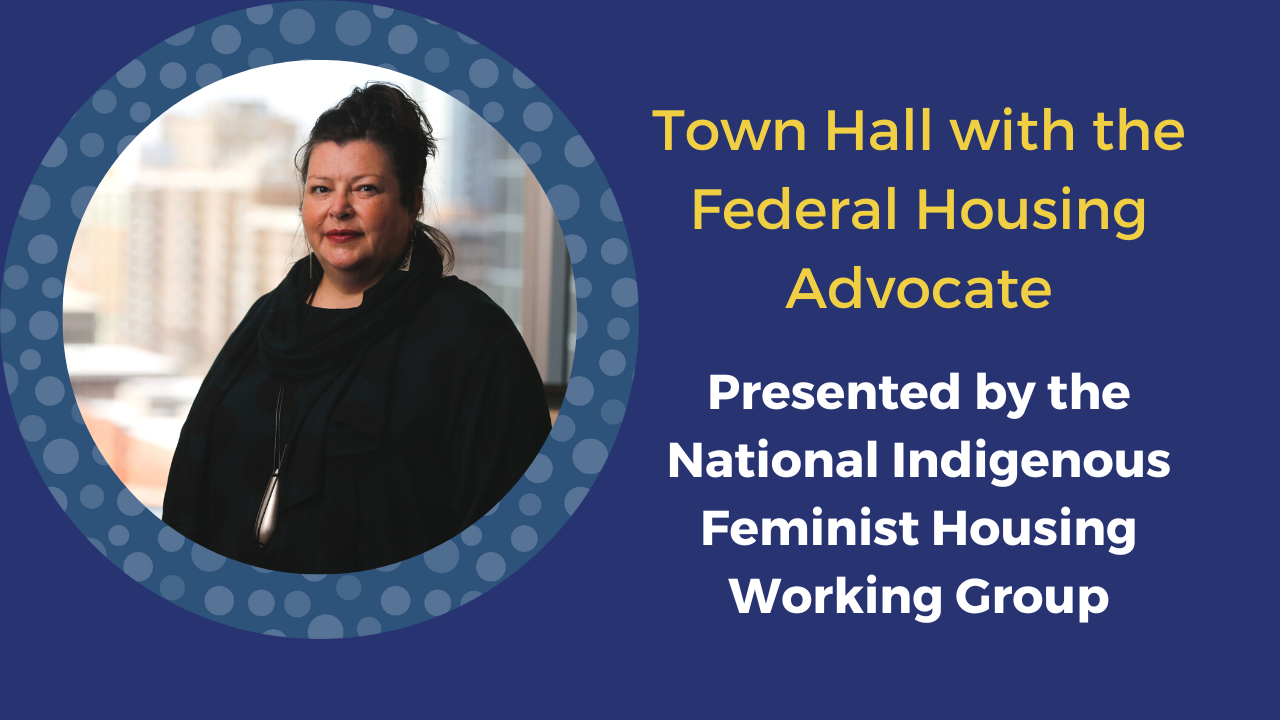 Town Hall with the Federal Housing Advocate
The National Indigenous Feminist Housing Working Group presents a human rights conversation with the Federal Housing Advocate. This event occurred on Sept. 13, 2022. The Town Hall was for Indigenous women, girls, Two-Spirit and gender-diverse people to engage with the Advocate and understand how the right to housing intersects with their inherent rights, how the Advocate's office can support them in their efforts to achieve housing justice for their communities, and to learn more about the Advocate's role.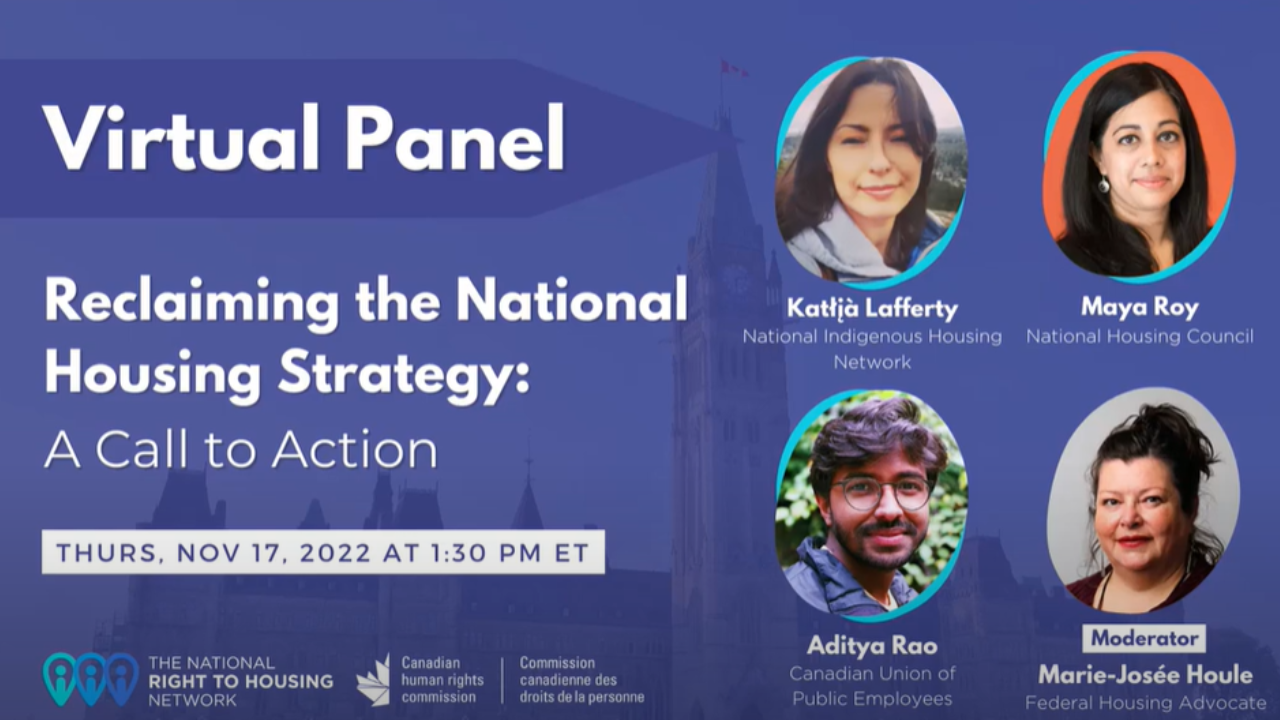 Panel: Reclaiming the National Housing Strategy
On November 17th, 2022, the National Right to Housing Network hosted a virtual panel discussion, in partnership with the Office of the Federal Housing Advocate, to highlight the urgent need to revise Canada's National Housing Strategy to include a stronger human rights-based approach by putting human dignity and lived experience at the centre of all its policies.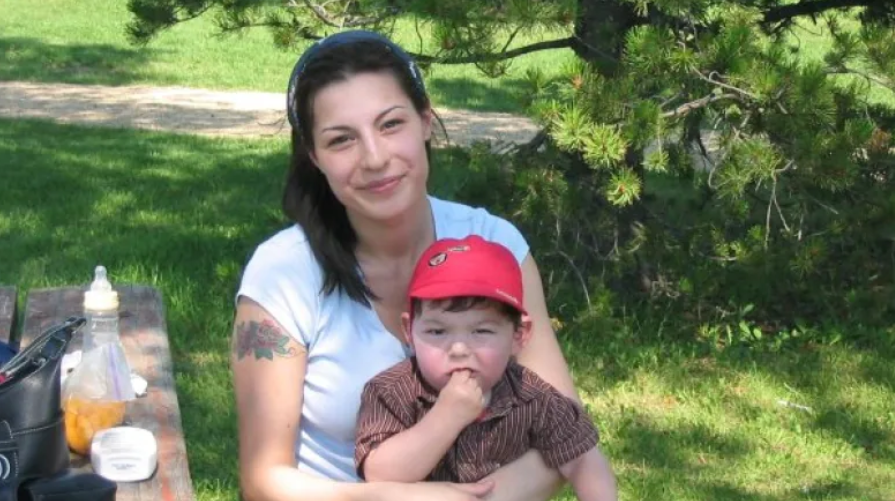 CBC Op-Ed: I grew up in Northern public housing. The system does not work for Indigenous people.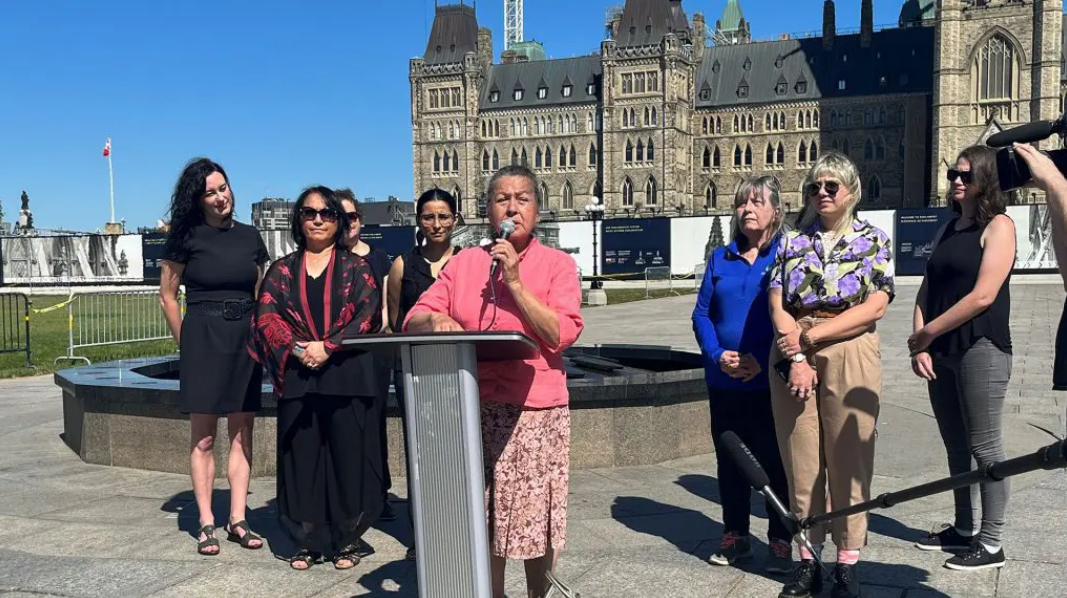 'Our people are dying': Complaint filed with Canada's advocate over lack of safe housing
APTN covered the Human Rights Claim announcement, Homeless on Homelands.
---
Contact
Email to learn more about joining the NIHN Steering Committee.