Here are 4 ways to get involved with our Human Rights Claims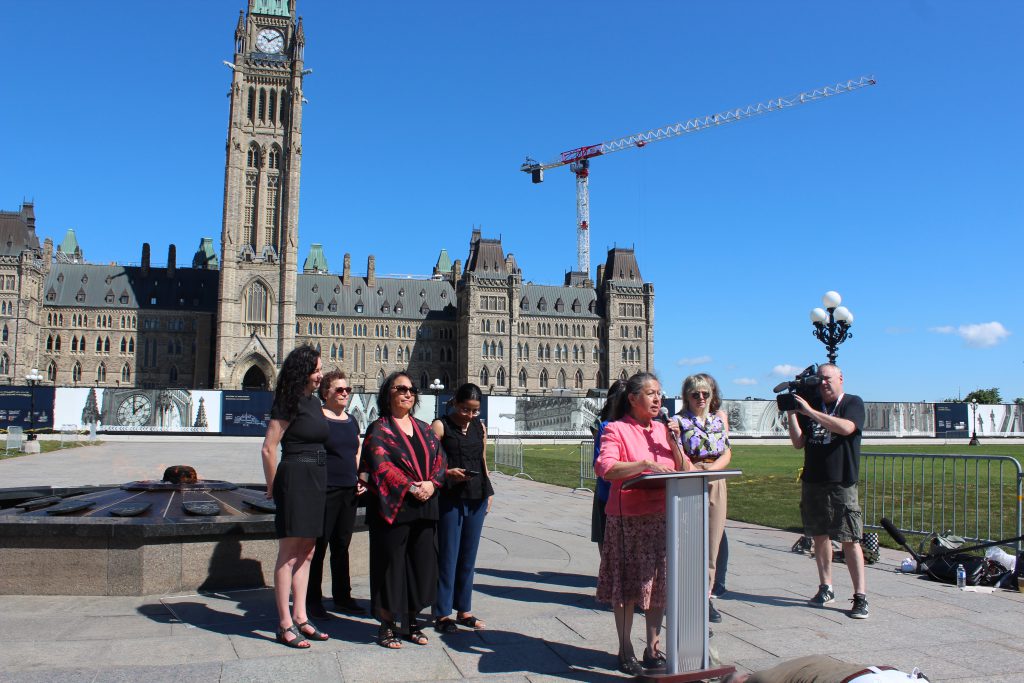 Do you see yourself in the pages of our Human Rights Claims?
Do you want to see the right to housing realized for women and gender-diverse people in Canada?
Do you want to claim your right to housing, and hold governments accountable for protecting that right? 
Find out ways to get involved and how to file your own claim in solidarity below!
1. Join Us
If you haven't already, become a member of the WNHHN by subscribing to our newsletter. Be the first to find out what we are working on and upcoming opportunities to engage in the right to housing process in your community or on a national stage.
In the coming months we will be hosting local consultation sessions on human rights violations experienced by women and gender-diverse people across the country. We are also planning online events that you also won't want to miss!
Already a member? Encourage your network, friends, colleagues, and loved ones to join now!
2. Submit a Claim with a Message of Solidarity
You can, as an individual or organization, submit your own housing claim to the Federal Housing Advocate (either online or by mail). You can also support someone by helping them fill out the virtual or hard-copy form.
a) Visit the claims page on the Office of the Federal Housing Advocate's website: www.housingchrc.ca/en/housing-submission. Here you will find a quick FAQ section, as well as the button at the bottom of the page to start a submission.
b) You can file a submission for yourself, on behalf of someone, or as an organization. Here is the printable form that you can also choose to mail in instead of fill out online: FORM
c) The form is broken up into 5 sections, including:
Housing Issues: You can select and describe different issues that apply to you or the person you are helping fill out the form.
Government Actions & Access to Justice: Describe the solutions you want to see them take. This is where you can add the line of solidarity (see Our Ask below) and support our Claims.
Living and Housing Situation: Describe your current living situation.
History of Eviction and Homelessness: Describe an experience related to either eviction or homelessness.
Personal Information: Mostly optional unless otherwise noted, but it will ask for contact details, gender & sexual orientation, demographic information like age, race & racial identity, disability status, languages, income info, and household type and size.
OUR ASK:
In your submission, please include a sentence of solidarity with our two Human Rights Claims (feel free to copy/paste):
I submit this claim in solidarity with the two claims filed by the Women's National Housing & Homelessness Network (The Crisis Ends with Us: Request for a Review into the Systemic Denial of the Equal Right to Housing of Women and Gender-Diverse People in Canada) and the National Indigenous Feminist Housing Working Group (Homeless on Homelands: Upholding Housing as a Human Right for Indigenous Women, Girls, Two-Spirit, and Gender-diverse People).
We would also love to include your submission in our virtual database of claims! With your permission, we can post your submission on our website.
3. Engagement Session
Participate in a people's tribunal, focus group, roundtable, or sharing circle in your community. Or, are you interested in hosting an event or engagement session in your community? We can help you organize!
Contact us at to find out more.
4. Take Action
Filing a claim is one action you can take–but it is not the only one! You can show your support by following us on Facebook // Twitter // LinkedIn // YouTube and sharing any of our calls to action, news, campaigns, and more.
We have recently launched a campaign asking folks to send a Letter to the Editor to their local newspapers. Fill out our form (it takes less than 10 minutes) and your letter will be sent to newspapers near you.
Help us get to our goal of 200 letters sent!
Check back here for upcoming campaigns, events and other opportunities to take action!